Open your

3CX Client

 and click on 

Settings/Advanced Settings/Behavior.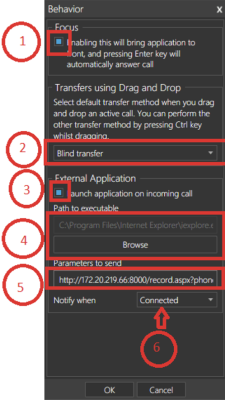 In the Behavior Panel follow the steps as shown below:

 
Focus

: Select Checkbox

 

 Select 

Blind transfer

 as per

 

External Application

: Select Checkbox.

 

Choose your Browser 

e.g. Internet Explorer

 from the installed location (e.g.: C:\Program Files (x86)\InternetExplorer\iexplore.exe)

 

 

Parameter to send:

 Copy paste this url: 

https://172.20.219.66:8000/record.aspx?phoneNumber=%CallerNumber%&did=

xxxxxx

 


Note: You should replace the did number (red color text) with your client Extension number for each individual machine.

 

 Select Notify when as 

Connected

 

 Click 

Ok

 
Open

Internet Explorer

Go to

Tools

>

Internet Options

>

and click the

Tabs

button (Shown here)

In the

Tabbed Browsing

section, you need to

uncheck "Warn me when closing multiple tabs"

, it's the first option, and then

OK.

After attending the inbound call, click the record button and a popup window will appear.
If you want to record the specific call, enter the PIN number (e.g: PIN256489556) and click the

Record

button.

If you don't need to record the call, click the

cancel

button.

Once the call is completed you can find the recording in the specified folder, e.g.

D:\CRM_Recordings.